San Sebastian, the beautiful city on the northern coast of Spain, is renowned for its natural beauty and exquisite cuisine. To truly appreciate this gem in the Basque Country, there's nothing like taking in the views from above. While most rooftop bars with panoramic views belong to hotels, we've compiled a list that includes some options open to the public, so you can enjoy these magnificent vistas.
Lasala Pl., 2, 20003 Donostia, Gipuzkoa

Hotel Lasala Plaza is a true treasure in the heart of San Sebastian. Located in the old fishing port of Parte Vieja, it offers stunning views of La Concha Bay. The hotel, housed in a historic building from 1917, has been meticulously renovated to blend its original charm with modern amenities. In addition to luxurious rooms, the hotel boasts an exclusive terrace open only to guests. From here, you'll enjoy panoramas of La Concha, Santa Clara Island, and the harbor. The terrace is perfect for breakfast, lunch, or an evening drink, and they even offer outdoor yoga classes by the pool.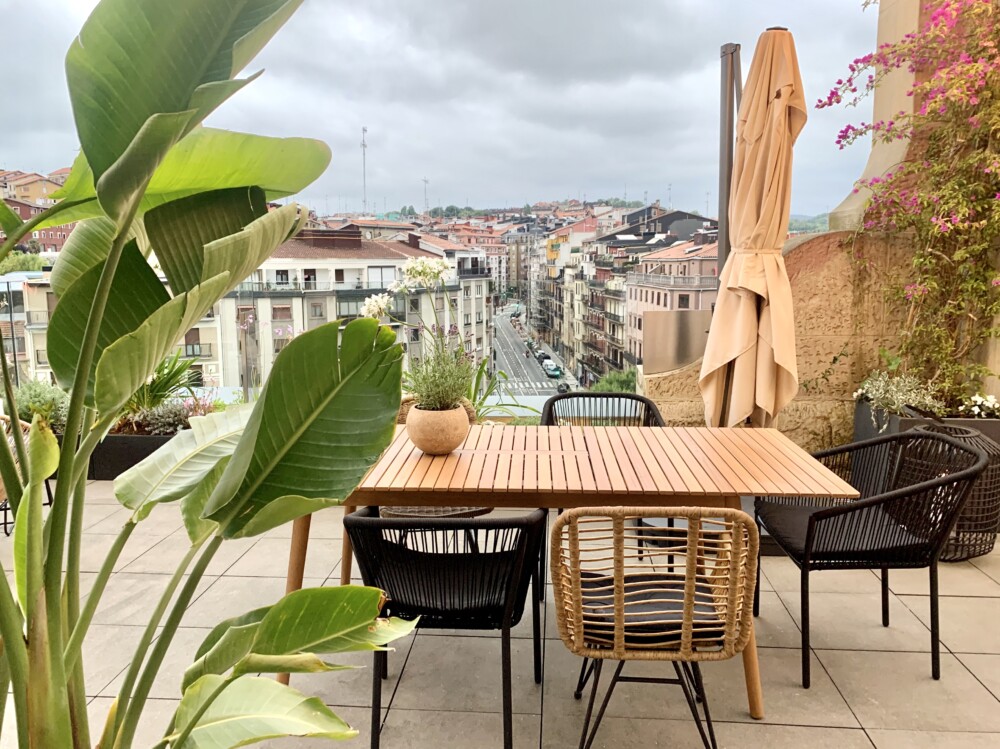 Tabakalera, Pl. de las Cigarreras, 1, Piso 5, 20012 Donostia-San Sebastian, Gipuzkoa
LABe is a hidden gem in San Sebastian. Besides being one of the best restaurants in the city, it offers an impressive rooftop. The restaurant is located on the top floor of Tabakalera, a former tobacco factory in Egia transformed into a contemporary cultural center. While it may not have the panoramic views of some other places, its rooftop is more spacious than most. The space has many tables reserved for diners, and they occasionally host concerts and special events. The best way to visit the rooftop is to book a meal here and request a table on the terrace.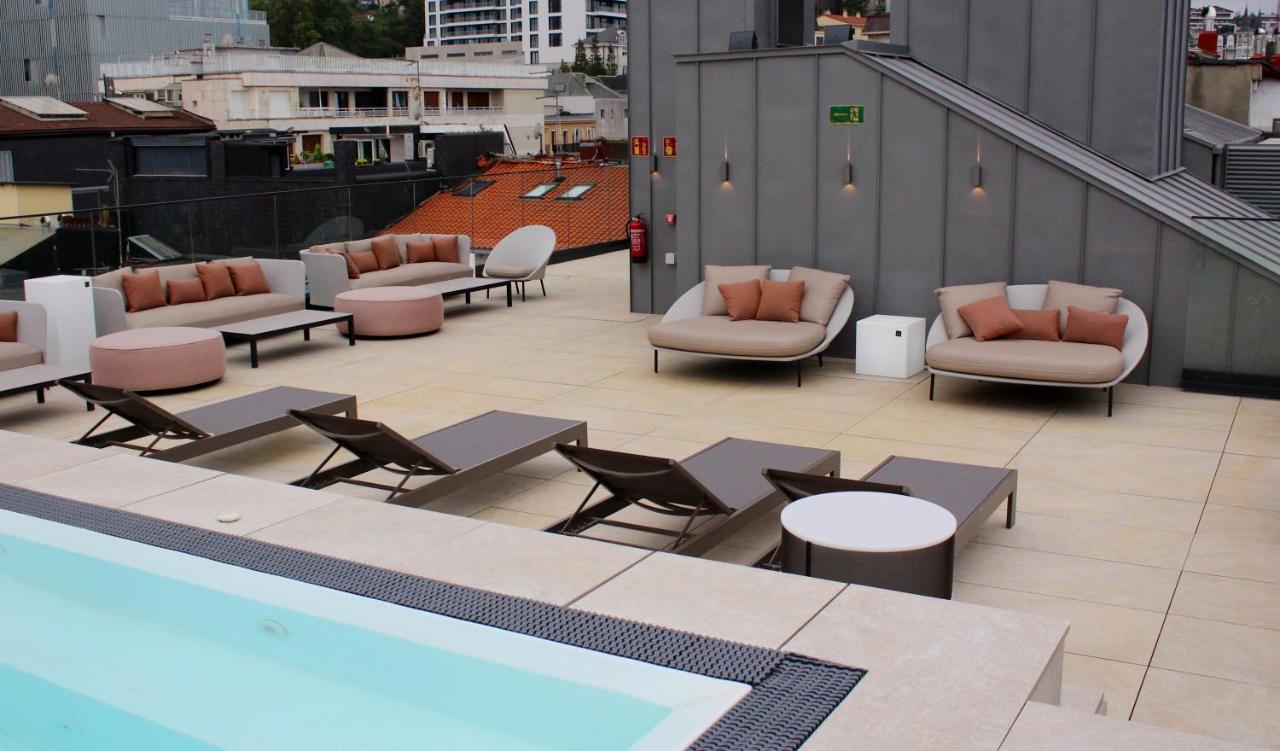 San Martin Kalea, 45, 20007 Donostia, Gipuzkoa
Just 100 meters from La Concha Beach, Hotel Zenit Convento is an ideal spot for your getaway in San Sebastian. The hotel is housed in an ancient convent building dating back to 1887, with a stunning chapel restored as the main entrance bar area. While the original façade, built with Igueldo quarry stone, has been preserved, the interior has been renovated to offer bright and modern rooms. The icing on the cake is the "El Zielo de Donosti" terrace, a spacious outdoor area with a pool, sun loungers, and sofas, open to the public every day.
República Argentina K., 4, 20004 Donostia, Gipuzkoa
Hotel Maria Cristina is an institution in San Sebastian, occupying a prominent position on the banks of the Urumea River for over 110 years. While the hotel doesn't have a common rooftop, some of its rooms on the top floor feature private terraces with incredible views of the Urumea River estuary and the Kursaal. This luxury hotel is known for hosting film stars visiting Donostia during the San Sebastian International Film Festival.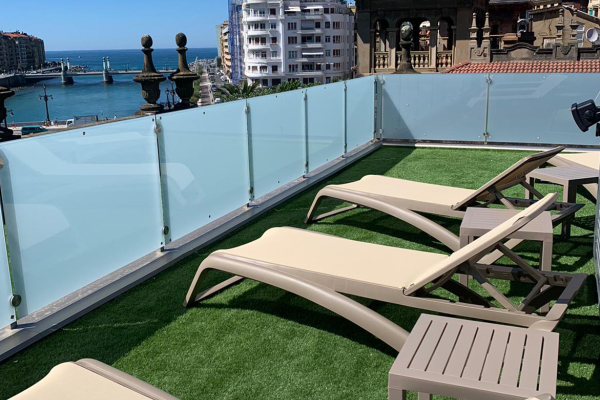 Frantzia Pasealekua, 4, 20012 Donostia, Gipuzkoa
Hotel ABBA, one of the newest hotels in San Sebastian, opened its doors in August 2020. Located on the Gros side of the Urumea River, the hotel occupies a baroque palace built in the early 20th century. The palace is a protected building and an impressive structure in its own right. Additionally, the hotel has created a mini oasis in the city. The rooftop has two levels with a bar seating area and a sunbathing and swimming pool area. While the pool is rather small, it's the perfect place to cool off. The good news is that the rooftop is open to the public every day from 5:00 PM to 10:00 PM.
Alternative Bars with Terraces
If you're not staying at a hotel with a rooftop, you can still enjoy spectacular terraces in San Sebastian at these alternative bars.
La Perla is a complex that includes a spa, beauty center, gym, and restaurant, located right on the Paseo de La Concha. This exclusive venue boasts three terraces named Igueldo, Santa Clara, and Urgull, all open to the public. From here, you can enjoy unparalleled views of La Concha Bay and Santa Clara Island, making the sunset an unforgettable experience.
While reaching El Polvorín requires about a 20-minute hike to the top of Monte Urgull, the effort is well worth it. Once at the summit, you'll feel like royalty with some of the best views of San Sebastian. The bar has a large terrace with many tables, which tend to fill up quickly, especially on a nice weekend. However, the bar has a very relaxed atmosphere, so if you can't get a table, you can always have a drink and sit on one of the walls. Live music is often played on weekends, creating a great ambiance on Monte Urgull.
GU is a restaurant and bar that transforms into a nightclub as the sun sets. This unique venue is located on a privileged viewpoint overlooking La Concha Bay, directly over the sea. Its yacht-shaped structure sits right at the water's edge, next to the Town Hall. It provides an unparalleled setting that brings you close to La Concha, allowing you to watch the world go by while sipping a cocktail.
In San Sebastian, whether you're a hotel guest or a visitor, there are multiple options for enjoying spectacular panoramic views. Rooftop bars and terraces offer unique experiences that let you appreciate the beauty of this charming city from above. Whether you want to enjoy a drink at sunset or have dinner with panoramic views, these options have something for everyone. Don't miss out on visiting these rooftops and terraces on your next trip to San Sebastian!
So the next time that are in San Sebastián, ensure you to begin your day with an exceptional breakfast in one of these places recommended. Good benefit!
Irene was born and raised in Bilbao. She has a deep rooted passion for her country and culture. She has a Bachelors degree in education and has traveled to over 85 countries throughout the world.
List of professional guides in the Basque Country